BULLDOG LEGACY PLAZA IS COMPLETED BUT WE HAVE MORE TO DO! Thank you to those who purchased a brick (or two!) or were a sponsor to help build the Bulldog Legacy Plaza. See our list of donors by clicking here. The plaza provides an area for students, alumni, and fans of NBHS to assemble in a beautiful setting along with Hesper, our wonderful mascot.
YOU CAN STILL BE A PART OF THE BULLDOG LEGACY PLAZA!
There are two ways to contribute to the Plaza and to make an impact on the future of students in the North Bend School District:
Leave a lasting legacy. Become a special part of the Plaza by purchasing commemorative personalized standard brick (4x8in rectangle) or large brick (8x8in square) that will be embedded in the Plaza for many generations into the future. For only $75 for a standard engraved brick or $150 for a large engraved brick, we will honor NBHS alums, graduating classes, students, staff, and friends. Each donor will also be listed on our Legacy Plaza Donors page.
Bricks can be purchased at polarengraving.com/bulldoglegacyplaza. Please note: From the Polar Engraving site, you must click "RETURN TO MERCHANT" after making your payment in PayPal to get a confirmation of your brick order.
---
We invite students, alumni, businesses, friends, family, and NBHS classes (e.g., Class of 2020, Class of 1973, etc.) to donate to the Friends of Bulldog Legacy Plaza project in any amount that you feel comfortable giving.
Any individual, class, or business major donor who contributes $1,000 or more (not individual brick purchases) will be recognized on our beautifully designed signage in the Bulldog Legacy Plaza. The Class of 1959 was the first Class Sponsor with their initial gift of $1,950. The North Bend Branch of Umpqua Bank is managing all of the funds donated and they were the first business to support our project.
To donate by credit card/PayPal, click on the Legacy Plaza Donation button here. To donate by check, make it out to "Friends of Bulldog Legacy Plaza" and mail it to the Foundation (PO Box 333, North Bend, OR 97459). All donors will also be listed on our Legacy Plaza Donors page.
---
Funds that are derived from your investment in an engraved brick or plaza donation will be used to provide the North Bend School Foundation with necessary funds to assist students in need, as well as to provide special programs that will benefit all students at NBHS.
Building and Dedication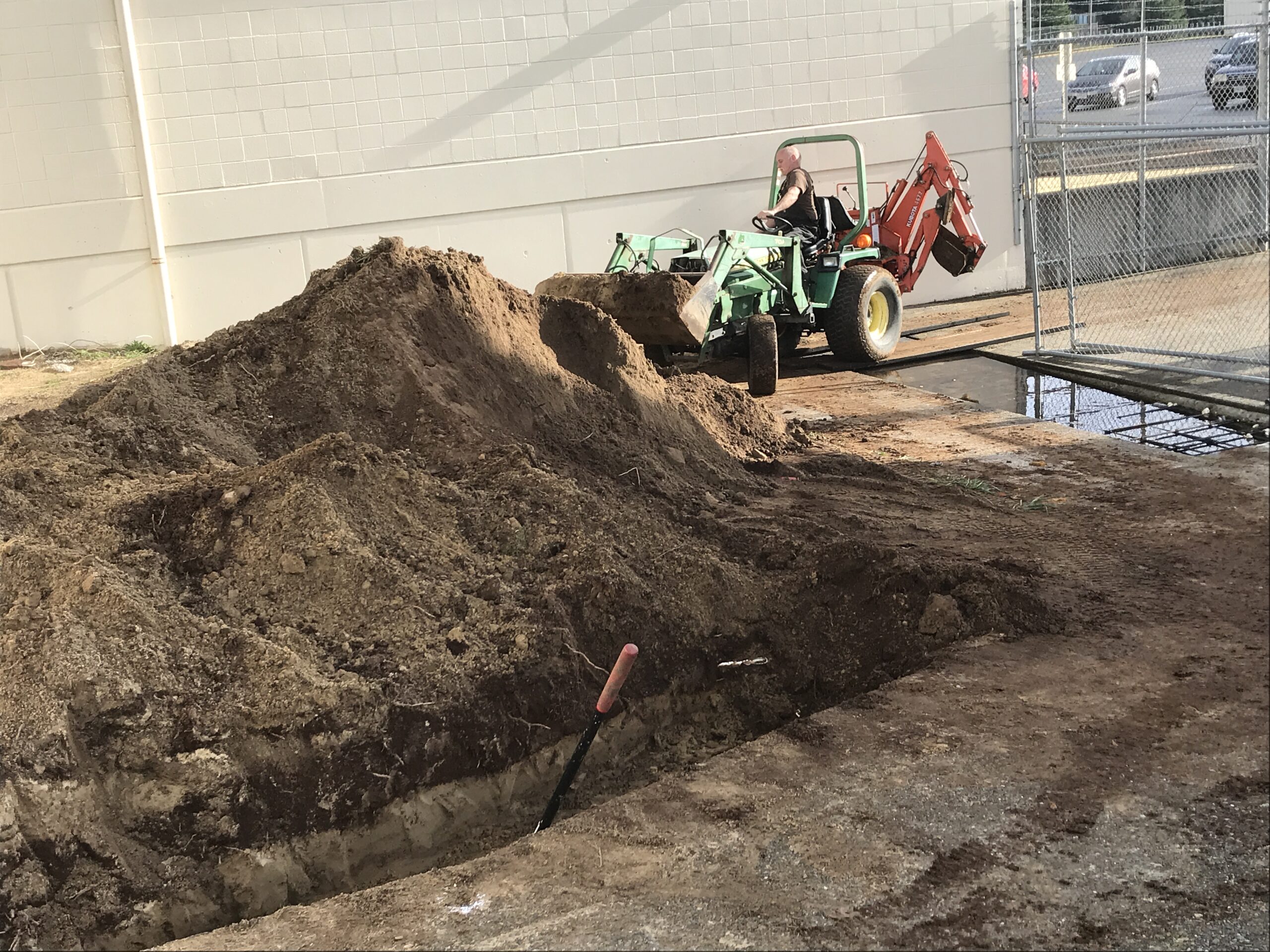 On March 18, 2022, a dedication ceremony was held at the plaza and Hesper was unveiled. Afterward, the group gathered at Back Alley Pub & Grill to celebrate with a taco bar, wine, and beer. What a celebration we had!!
At the reception at Back Alley Pub & Grill after the dedication ceremony, a short PowerPoint presentation was shown. You can download a PDF of the presentation here:
We Are in the News!
We received press coverage on February 18, 2022, by KCBY and KVAL and celebrated the plaza dedication and unveiling of Hesper on March 18, 2022.
Thank you to the Bulldog Legacy Plaza Committee
Cordell Berge
Boyd Bjorkquist
Mike Forrester
Steve Greif
Mark Mattecheck
Ken Sandine
If you have questions about the Bulldog Legacy Plaza, you can email info@nbschoolfoundation.org.
The Committee thanks you for your consideration in donating to this very worthwhile endeavor. This project is being administered by the Committee for the Friends of Bulldog Legacy Plaza, a function of the North Bend School Foundation, a 501(c)(3) organization. Your donation may be tax deductible.
North Bend School Foundation – P.O. Box 333, North Bend, OR 97459 – EIN 26-1298799